Coconut panna cotta with fresh passionfruit
Prep time: 10 minutes plus chilling time

For a dairy free version of these sweet pana cotta's you can swap the milk with unsweetened coconut milk and cream with canned coconut cream.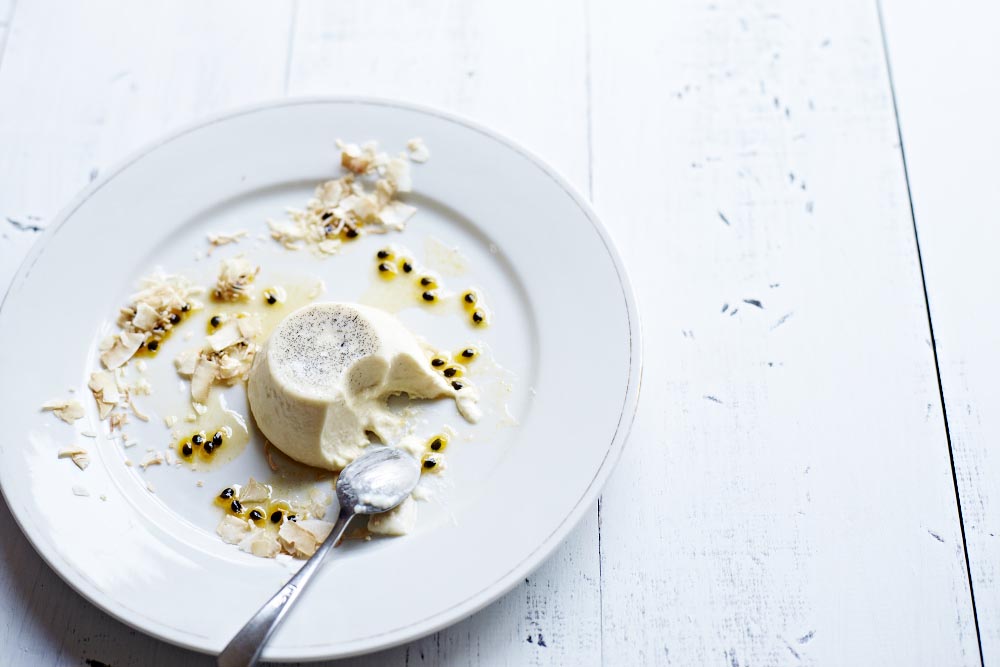 Ingredients
50g shredded coconut

⅔ cup (160ml) milk

⅔ cup (160ml) thin cream or coconut cream

1 tbs caster sugar

1 tsp vanilla bean paste

1 small or ½ large gelatine leaf
Passionfruit syrup
1 tbs honey

⅓ cup (80ml) fresh passionfruit pulp

2 tbs water
Method
1. Preheat oven to 180°C or 160°C fan forced, spread coconut out on a baking tray and toast, for 10 minutes, stirring occasionally, or until golden. Remove and set ¼ of the toasted coconut aside.
2. Place remaining coconut, milk, cream, sugar and vanilla in a small saucepan and slowly bring to a simmer over a low heat. Remove from heat and set aside to infuse for 10 minutes. Strain, pressing on the coconut mixture to extract the cream, then discard coconut.
3. Soak gelatine in a small bowl of cold water until softened. Return cream mixture to a clean saucepan and bring to a simmer. Add gelatine, whisk until dissolved. Divide mixture between 2 x 125ml (½ cup) dariole moulds. Place on a small try, cover with plastic wrap and place in the fridge for at least 6 hours or until set.
4. To make the passionfruit syrup, place all ingredients in a small saucepan and bring to the boil over a low heat, stirring to dissolve the sugar. Simmer for 3-4 minutes or until syrupy. Set aside to cool.
5. To serve, dip base of mould into hot water for 1-2 seconds, then carefully invert onto serving plates. Spoon some of the passionfruit syrup around the panna cotta. Garnish with reserved toasted coconut.