Roasted beetroot, fennel & watercress salad with caramelised walnuts & goats curd
Prep time: 20 minutes plus cooling time

Caramelised walnuts are the perfect match to earthy beetroot, rich in betacyanin plant pigments that act as powerful antioxidants that may help to lower the risk of heart disease You can easily double the quantities of this salad to serve 4, or even 6.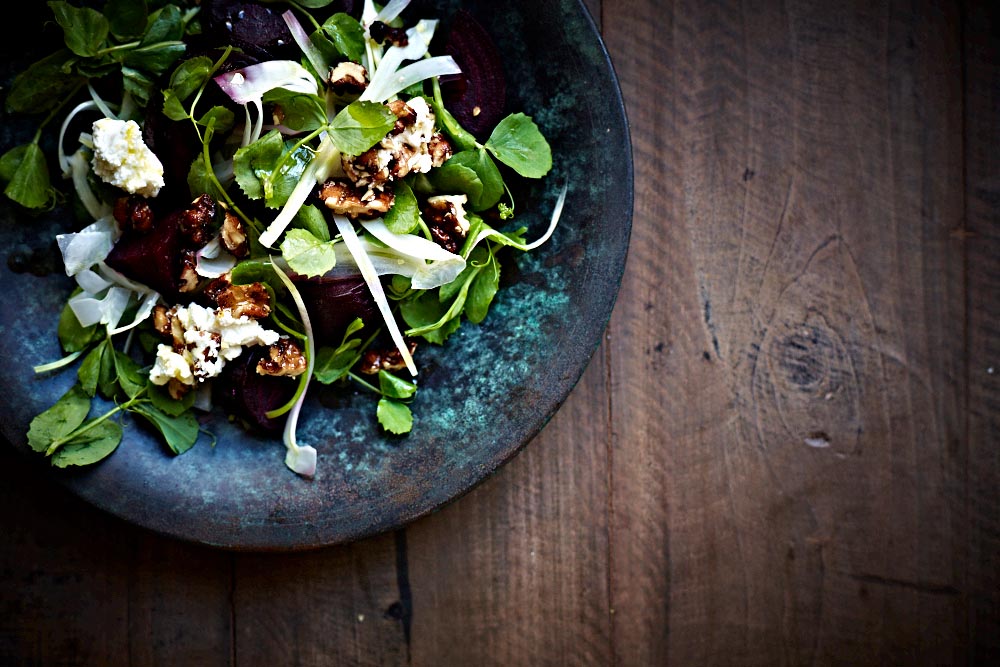 Ingredients
4 small beetroot (about 300g), trimmed

⅓ cup (35g) walnuts

2 tsp honey

1 bulb baby fennel, trimmed, halved

Squeeze of lemon juice

1 cup picked watercress leaves

1 tbs extra virgin olive oil

1 tbs sherry vinegar

2 tsp Dijon mustard

Goats curd, to dollop
Method
1. Preheat oven to 200°C or 180°C fan forced. Place the beetroot in a large baking tray, cover tray with foil and roast for 1 hour or until tender when pierced with a skewer. Set aside to cool slightly, then peel (wearing gloves prevents your hands from staining) and cut into wedges.
2. Place walnuts and honey in a bowl and toss to combine. Spread walnuts out in a single layer on a small baking tray lined with baking paper. Roast for 10 minutes or until golden and caramelsied. Remove and set aside to cool. Roughly chop.
3. Thinly slice fennel (a mandolin is a great way to do this) and squeeze over a little lemon juice to prevent it discolouring. Whisk the olive oil, vinegar and mustard together, season with a pinch of sugar and salt to taste.
4. To serve, toss the beetroot, fennel and watercress together and divide between serving plates. Scatter over some walnuts, drizzle with a little dressing and top with a dollop of curd.