Banana, honey & walnut bread
I love to serve this delicious banana bread toasted, and spread with a little ricotta. To make banana and blueberry bread, omit the walnuts and stir through 1 cup fresh or frozen blueberries.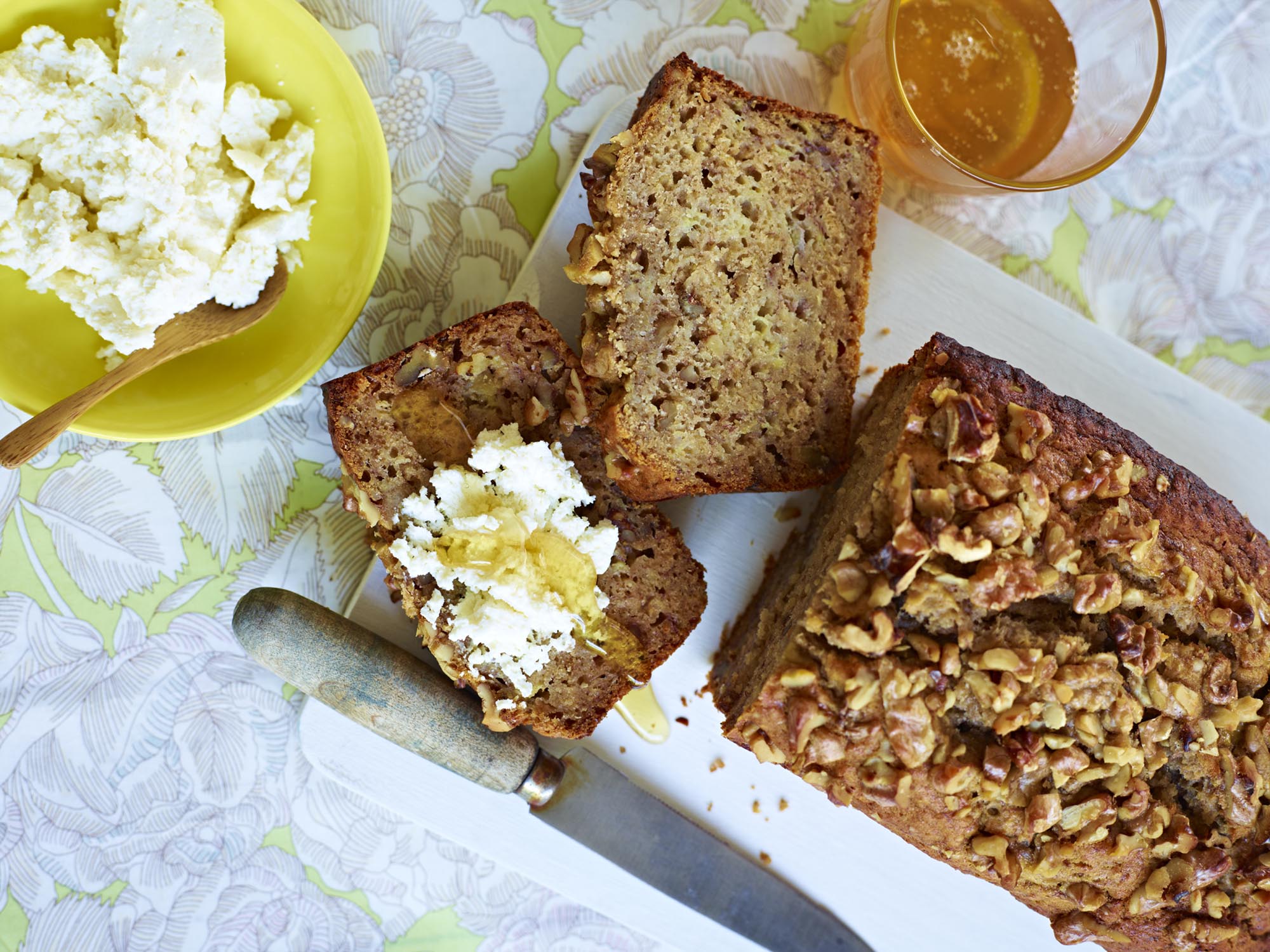 Ingredients
225g (11/2 cups) plain flour

1 teaspoon ground cinnamon

3 teaspoons baking powder

65g (⅔ cup) quinoa flakes

60g (½ cup) walnuts, roughly chopped

125ml (½ cup) honey, plus extra to serve

2 eggs

80ml (⅓ cup) sunflower oil

60ml (¼ cup) sour cream

4 small (about 500g) very ripe bananas, mashed

Fresh ricotta, to serve
Method
1. Preheat oven to 180C or 160C fan forced. Lightly oil and line the base of a 9 x 19cm loaf tin.
2. Sift the flour, cinnamon, baking powder and a pinch of salt into a large mixing bowl. Add the quinoa flakes and ⅓ cup of the walnuts and stir to combine.
3. Combine the honey, egg, oil, sour cream and banana in a separate bowl. Add the wet ingredients to the dry ingredients and stir until just combined.
4. Spoon mixture into prepared tin, smooth surface with the back of a spoon and sprinkle with remaining walnuts. Bake for 45 minutes, or until golden and a skewer inserted into the centre comes out cleanly (cover top with foil if browning too quickly).
5. Remove, set aside to cool for 10 minutes before removing from tin and transferring to a wire rack. Serve warm or at room temperature with fresh ricotta and a drizzle of honey.
Notes/Tips
Notes: quinoa flakes are ideal to use in baked goods where you would typically use rolled oats.
Tip: this banana bread is great to freeze and can then be ready for a quick breakfast, simply requiring toasting. Just cut into slices, wrap in plastic wrap and freeze.