Warm spelt, roasted tomato, eggplant, basil & feta salad
Spelt grain is ideal to use in salads where you would usually use rice, couscous or pasta. It works beautifully with Mediterranean flavours such as tomatoes, basil and balsamic.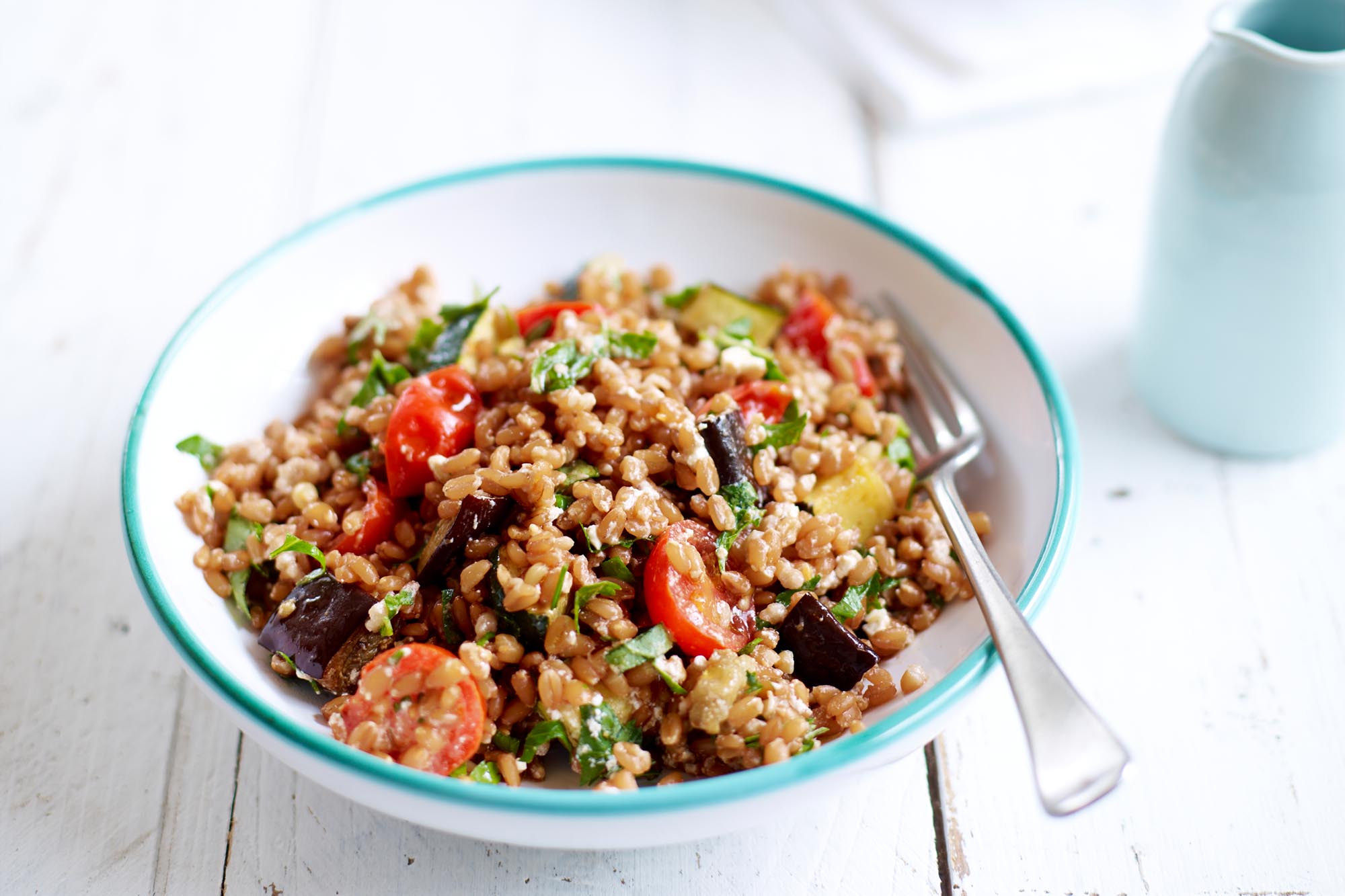 Ingredients
200g (1 cup) spelt grain

1 medium eggplant, trimmed, cut into 1.5cm dice

1 large zucchini, trimmed, cut into 1.5cm dice

1 teaspoon ground cumin

2 tablespoons olive oil, plus 1 tablespoon extra

250g cherry tomatoes, halved

½ cup fresh basil leaves, torn

½ cup fresh flat-leaf parsley leaves

100g creamy feta, diced

2 tablespoons balsamic vinegar
Method
1. Preheat oven to 180C or 160C fan forced. Cook the spelt in a large saucepan of lightly salted boiling water for 45 minutes, or until al dente. Rinse under cold running water, drain well.
2. Meanwhile, place the eggplant and zucchini in a single layer on a large baking tray lined with baking paper. Sprinkle with the cumin, drizzle with the extra olive oil and season with sea salt and freshly ground black pepper. Roast for 12 minutes, add the tomatoes cut side up to the tray, return to oven for a further 8-10 minutes or until eggplant is tender and tomatoes are just wilted.
3. Place spelt, roasted vegetables, basil, parsley and feta in a large mixing bowl, season with salt and pepper. 
4. Combine olive oil and balsamic vinegar, add to salad and gently toss to combine.
Notes/Tips
Tip: you could substitute the spelt with kamut grain, pearl barley, brown rice, buckwheat or quinoa. Different cooking times will apply.