Home-made pizzas with salami, fresh tomato, red onion & rocket
Cooking time:

10-12 minutes, plus 1 hour rising time
Kamut and spelt flour are both great to use in baked goods where you would typically use wheat flour, such as cakes, bread or pizza dough. They do contain some gluten, however the gluten does not require as much kneading as regular wheat flour.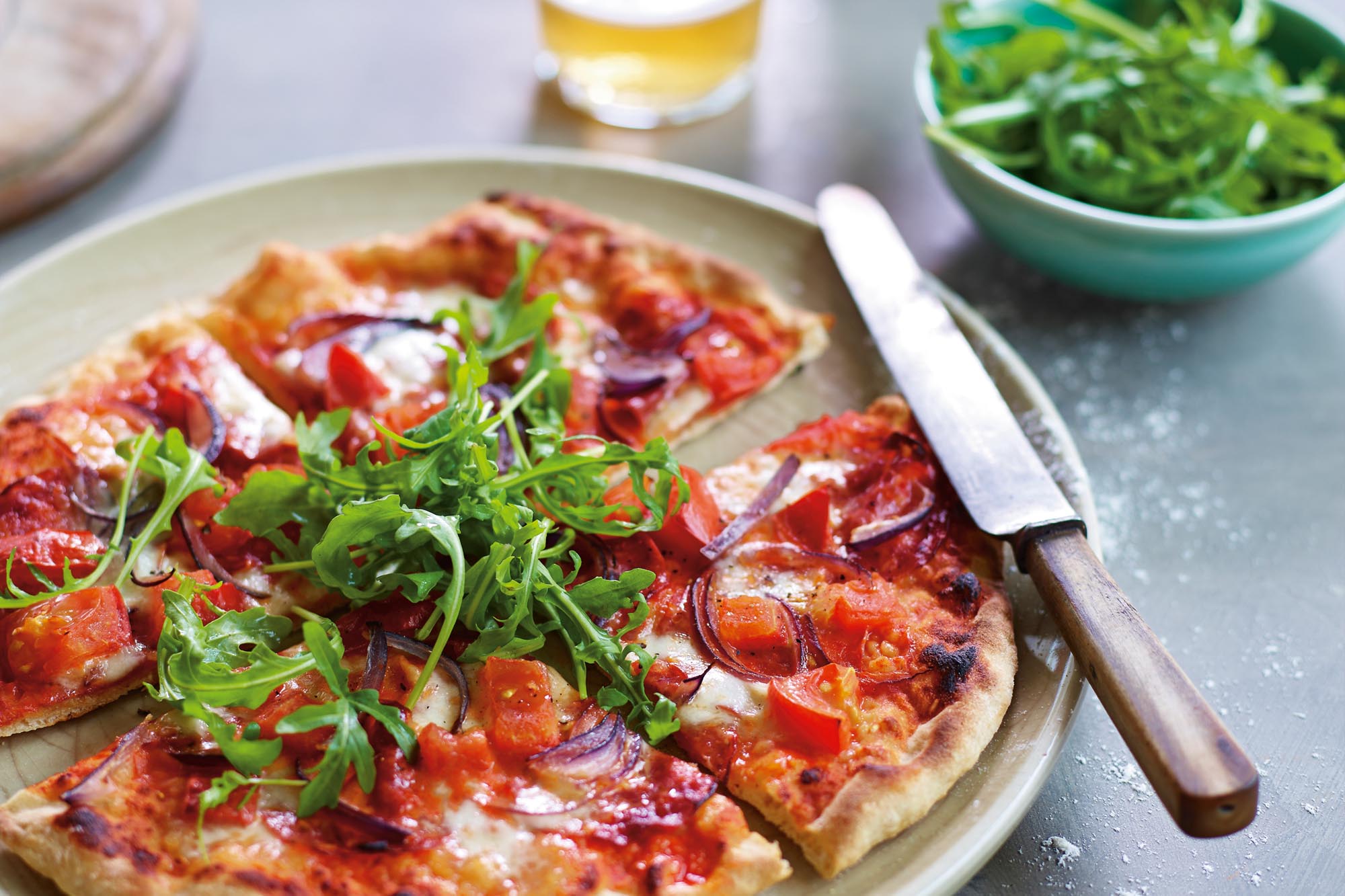 Ingredients
80ml (⅓ cup) tomato passata

100g thinly sliced salami

2 large vine ripened tomatoes, diced

1 small red onion, thinly sliced

150g bocconcini, thinly sliced

100g baby rocket leaves, to serve

Balsamic vinegar, to drizzle
Pizza
Pizza dough

1 teaspoon honey

450g (3 cups) kamut or spelt flour

290ml tepid water

7g sachet dried yeast

1 ½ tablespoons olive oil, plus extra to grease
Method
1. Preheat oven to 180C or 160C fan forced. Cook the spelt in a large saucepan of lightly salted boiling water for 45 minutes, or until al dente. Rinse under cold running water, drain well.
2. Meanwhile, place the eggplant and zucchini in a single layer on a large baking tray lined with baking paper. Sprinkle with the cumin, drizzle with the extra olive oil and season with sea salt and freshly ground black pepper. Roast for 12 minutes, add the tomatoes cut side up to the tray, return to oven for a further 8-10 minutes or until eggplant is tender and tomatoes are just wilted.
3. Place spelt, roasted vegetables, basil, parsley and feta in a large mixing bowl, season with salt and pepper.
4. Combine olive oil and balsamic vinegar, add to salad and gently toss to combine.
5. Spread each pizza with 2 tablespoons tomato passata, then top each with 1/4 of the salami slices, diced tomato, onion and bocconcini.
6. Bake pizzas for 5 minutes, then swap trays around in the oven to ensure even cooking. Cook for a further 5-7 minutes or until golden and base is crisp. Remove from oven, and bake the next two pizzas. Serve pizzas topped with baby rocket leaves and a drizzle of balsamic vinegar.
Notes/Tips
Tip: these pizza bases can be topped with any of your favourite toppings. For a vegetarian pizza try cubes of roasted pumpkin, thinly sliced zucchini, ricotta and chopped parsley.