Barbecued flat bread pizzas with chorizo, feta & peppers
Cooking pizza on the barbecue gives the pizza a delicious a crisp base and is on the table in minutes. Serve with a big tossed salad to up the veg content. For a vegetarian version swap the chorizo with sliced mushrooms and zucchini.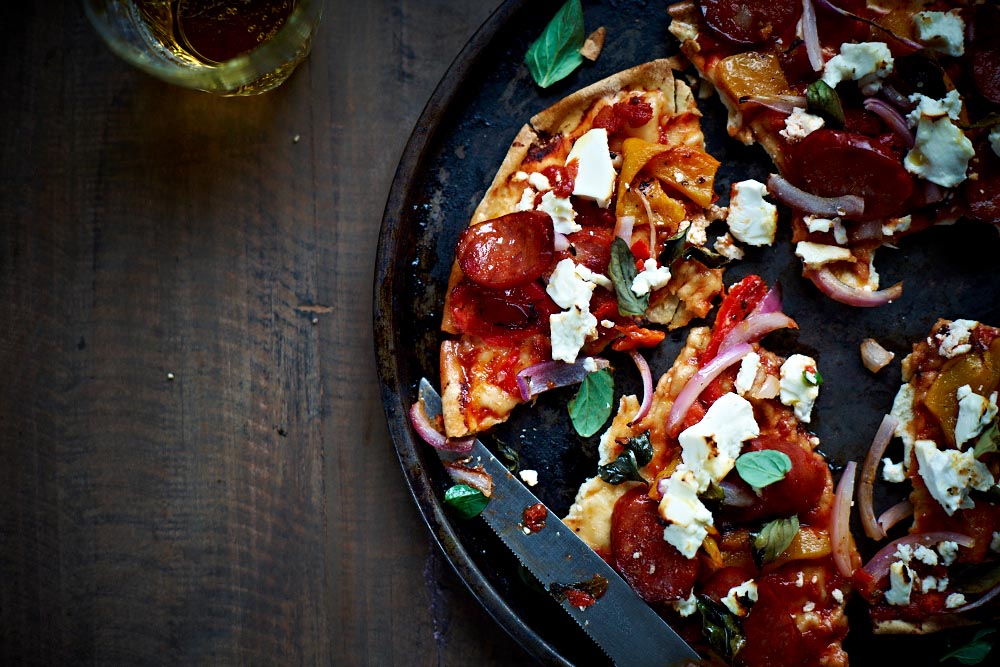 Ingredients
4 souvlaki or small Lebanese flat breads

⅓ cup (80ml)  tomato passata

150g chorizo, thinly sliced

2 small roasted capsicums, peeled, cut into strips

1 small red onion, thinly sliced

100g creamy feta, crumbled

1/4 cup freshly picked oregano leaves
Method
1. Preheat a barbecue with a lid on high, or preheat oven to 220°C or 200°C fan forced.
2. Spread each flat bread evenly with 1 tablespoon tomato passata, then top each with a quarter of the chorizo, roasted capsicum, onion, feta and oregano leaves.
3. Place pizzas on preheated barbecue flat plate, cover with lid and barbecue for 8-10 minutes or until base is crisp and cheese is melted and bubbling. Alternatively, place pizzas on baking trays and bake in preheated oven for 10-12 minutes.