Chorizo, rice, pepper and bean bowl
This delicious and nutritious meal is so quick and easy to prepare. The combo of beans and rice provide a complete protein, making this a balanced meal. You can add 1 chorizo diced (with the onion) or alternately to keep it vego, I like to add some sliced mushrooms to further boost the veggie content.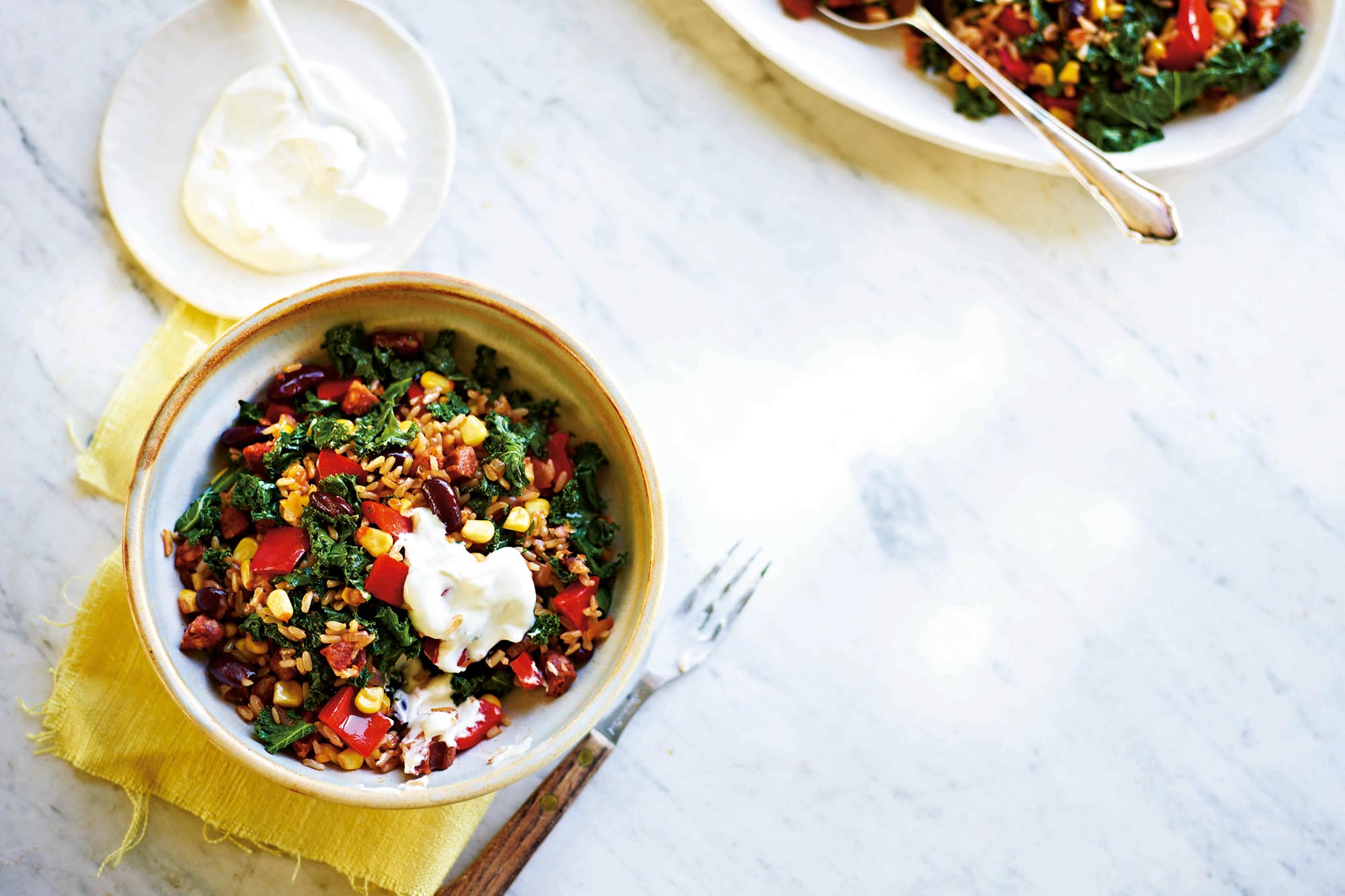 Ingredients
2 teaspoons olive oil

1 red onion, finely chopped

1 teaspoon sweet paprika

1 red capsicum (pepper), seeded and diced

2 cobs sweetcorn, kernels removed

400 g (14 oz) tin red kidney beans, drained and rinsed (see tips)

340 g (2 cups) cooked brown rice

100 g (3½ oz) kale, centre veins removed, leaves chopped

Lime wedges, to serve

Natural yoghurt, to serve
Method
1. Heat the olive oil in a large saucepan over medium heat. Add the onion and cook, stirring, for 5 minutes or until onion is golden. Add the paprika and cook, stirring, for 1 minute or until fragrant.
2. Add the capsicum and corn and cook, stirring, for 2 minutes or until almost tender. Add the beans and rice and cook for 2 minutes or until heated through. Add the kale and cook, stirring, until just wilted.
3. Serve with a wedge of lime and a dollop of yoghurt.
Notes/ Tips
You can replace the tinned kidney beans with 255 g (1½ cups) cooked kidney beans, and you can replace the kale with trimmed silverbeet (Swiss chard) or English spinach leaves.