Pea, asparagus, ricotta and smoked salmon frittata
This versatile frittata is just the thing for breakfast on the run or a packed lunch, or serve it with plenty of salad leaves and some crusty bread for a light dinner. For a vegetarian version, omit the salmon and add some crumbled feta.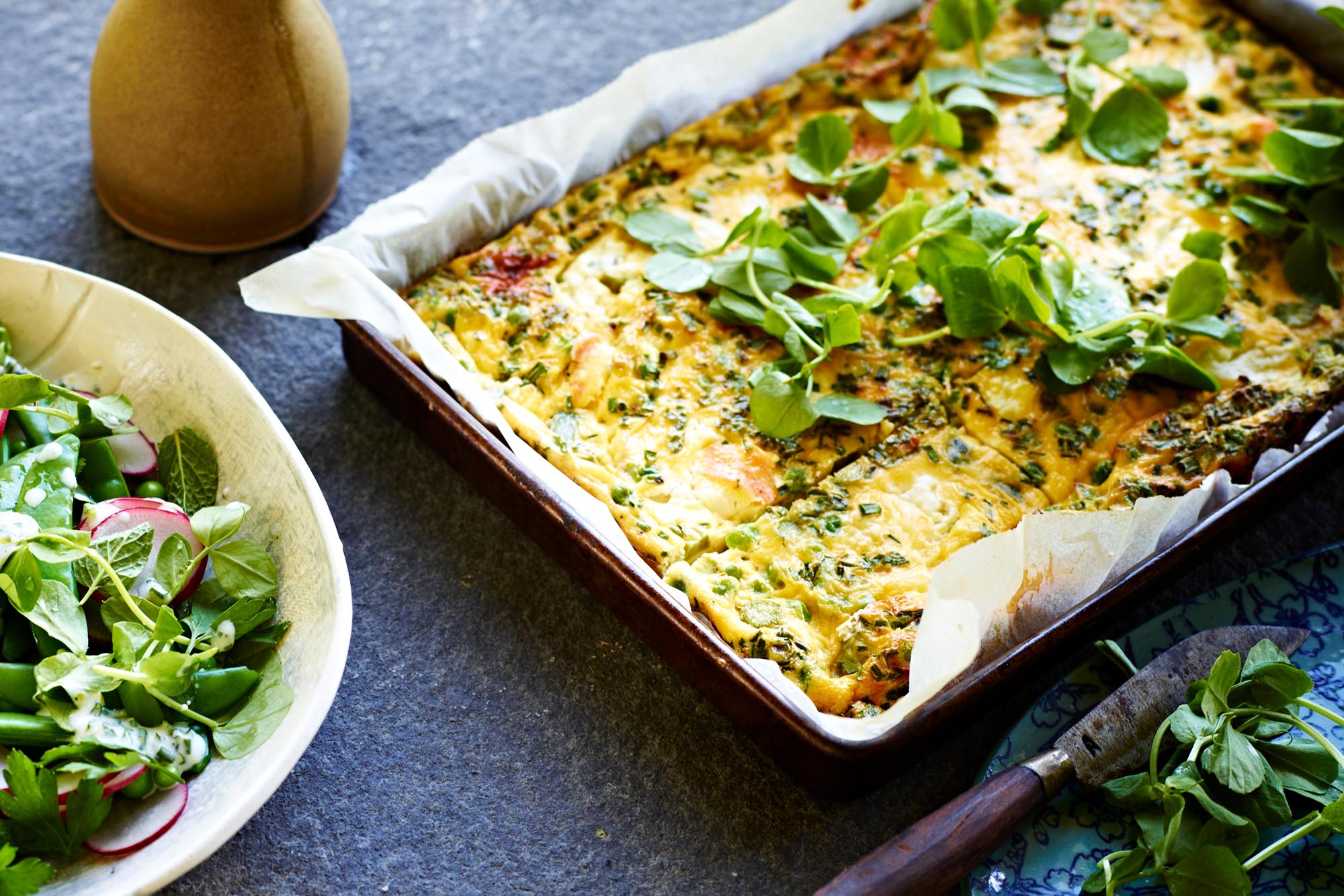 Ingredients
Oil spray, for greasing

140 g (5 oz/1 cup) fresh or frozen baby green peas

1 bunch asparagus, trimmed and thinly sliced

8 eggs

180 g (6¼ oz/¾ cup) fresh ricotta

60 ml (2 fl oz/¼ cup) milk

1 tablespoon snipped chives

1 teaspoon finely grated lemon zest

100 g (3½ oz) smoked salmon, diced

Snow pea (mangetout) tendrils or baby English spinach leaves, to serve
Method
1. Preheat the oven to 180°C (350°F/Gas 4). Lightly spray a 20 cm x 30 cm (8 in x 12 in) nonstick baking tin with oil and line the base with baking paper.
2. Cook the peas in a saucepan of boiling water for 2–3 minutes or until just tender, adding the asparagus for the last minute of cooking time. Refresh under cold running water and drain.
3. Put the eggs, 120 g (4 ¼ oz/½ cup) of the ricotta, milk, chives and zest in a medium bowl, season to taste with sea salt and freshly ground black pepper and whisk to combine. Add the asparagus, peas and salmon and stir to combine. Pour mixture into prepared tin. Dollop the remaining ricotta over the top.
4. Bake frittata for 20–25 minutes or until golden and puffed. Remove and set aside to cool slightly before carefully removing from tin. Serve warm or cold with snow pea tendrils or baby spinach leaves.
Notes/ Tips
 gluten-free
Frittata is delicious served warm or at room temperature.