Puy lentil, asparagus & broad bean with dukkah
Lentils are packed with plant protein and are rich in dietary fibre, both soluble and insoluble which not only assists in reducing cholesterol levels, but can also help stabilise blood sugar levels. When asparagus is out of season, you can swap with broccolini or zucchini.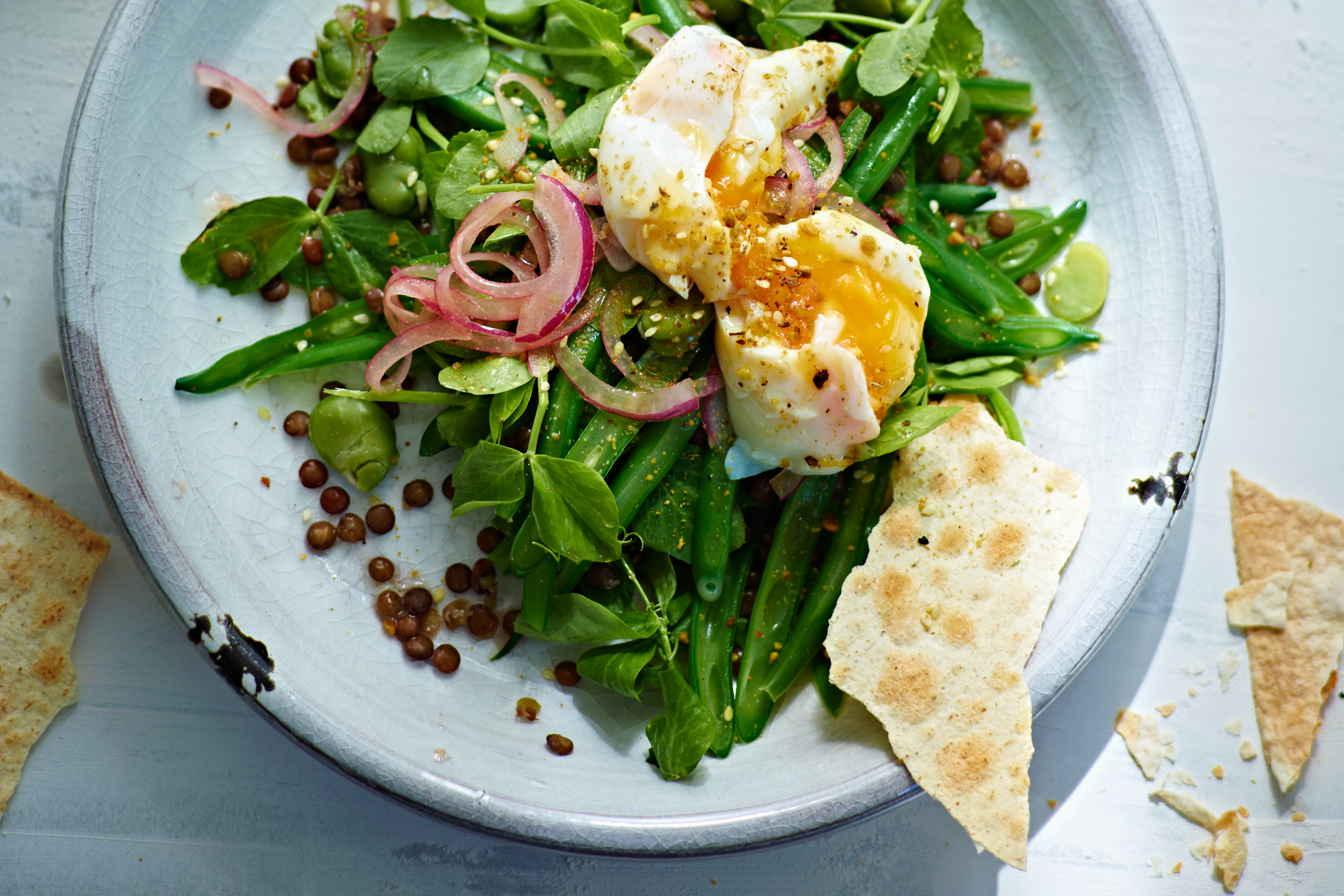 Ingredients
250 g  fresh or frozen podded broad beans

145 g (⅔ cup) dried Puy lentils, rinsed and drained

2 tablespoons red wine vinegar

1 tablespoon extra-virgin olive oil

1 small red onion, thinly sliced

½ teaspoon honey

¼ teaspoon sea salt

1 bunch asparagus spears, trimmed and cut into 4cm lengths

200 g green beans, trimmed and halved

75 g  snow pea tendrils (or watercress leaves or other leafy greens)

4 eggs

1 tablespoon almond dukkah

Flat bread, to serve
Method
1. Cook the broad beans in a saucepan of boiling water for 3 minutes or until tender. Refresh under cold running water. Drain. Peel off outer skins and discard. Set aside.
2. Cook the lentils in a saucepan of boiling water for 20–25 minutes or until al dente. Drain and transfer to a large bowl. Add 1 tablespoon of the vinegar and the olive oil, season to taste with sea salt and freshly ground black pepper, stir to combine and set aside to cool.
3. Combine the onion, remaining vinegar, honey and salt in a small bowl. Set aside to pickle for 5 minutes.
4. Meanwhile, cook the asparagus and green beans in a saucepan of boiling water until just tender. Refresh under cold running water. Drain. Add the asparagus, green beans, reserved broad beans and snow pea tendrils to the lentils. Gently toss to combine.
5. Place the eggs in a saucepan and cover with cold water. Bring to the boil, then reduce heat to low–medium and simmer for 4 minutes for soft-boiled eggs. Drain and carefully peel shells. Cut each egg in half.
6. Divide the salad between plates and top each with some pickled onions and an egg. Sprinkle with the dukkah and serve with flat bread.
Tips/hints
Dukkah is an Egyptian blend of spices, dried herbs and roasted nuts. You can find it in the spice section of most supermarkets.