Wholegrain spelt spaghetti with zucchini, almonds, beans & tomatoes
When it comes to pasta, I always choose a wholegrain variety. Spelt is not only higher in protein and dietary fibre then regular wheat pasta. It's also gentler on digestion. Packing the sauce with lots of vegetables will help you keep the portion
of pasta to a sensible size.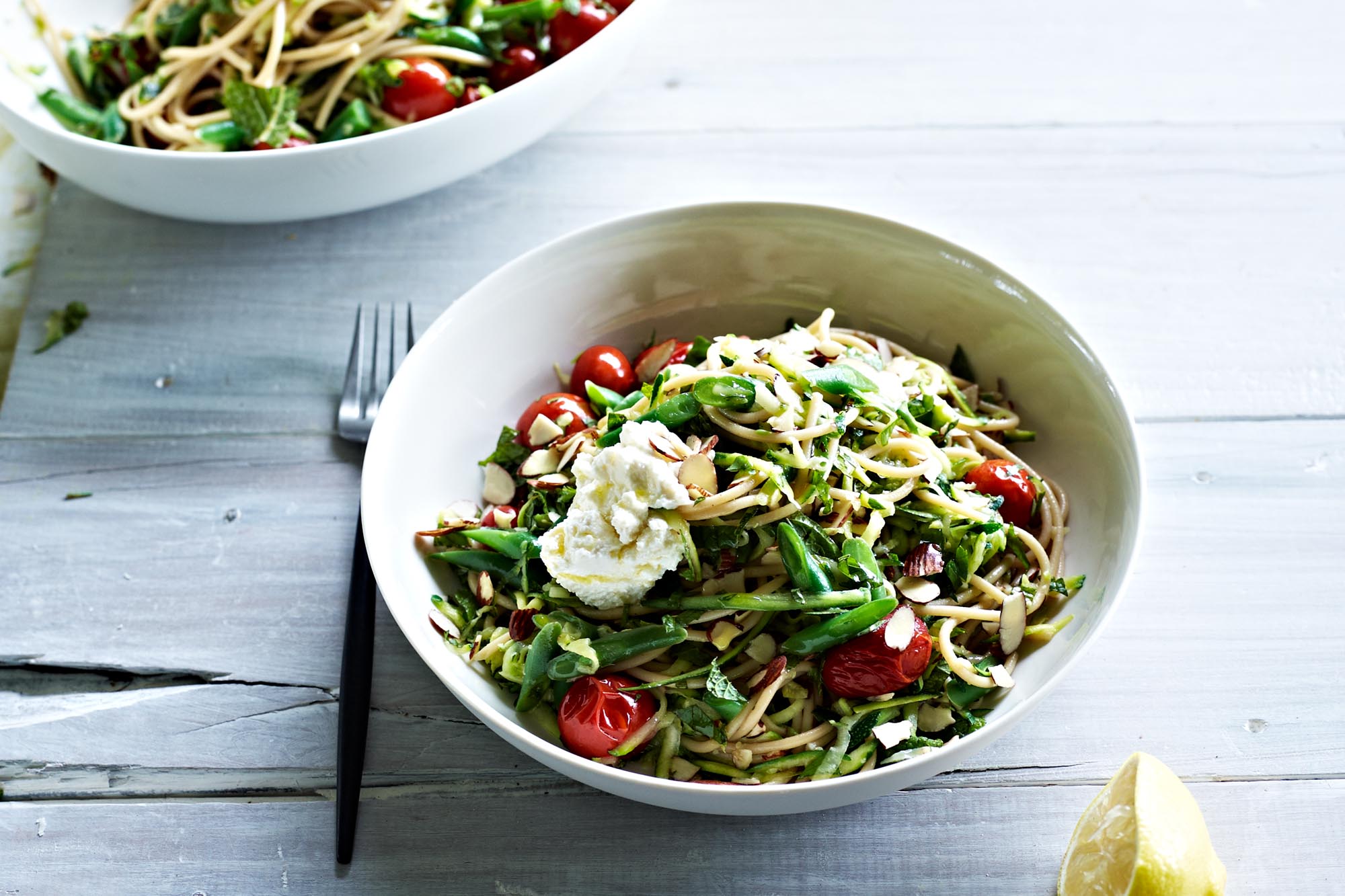 Ingredients
400g grape tomatoes

250g wholegrain spelt spaghetti

200g green beans, sliced

1 tbs olive oil

2 garlic cloves, crushed

2 tsp finely grated lemon zest

2 large zucchini, coarsely grated

2 tbs chopped fresh continental parsley

2 tbs chopped fresh mint

1 tbs lemon juice

35g (1/3 cup) flaked almonds, toasted

80g (1/3 cup) ricotta
Method
1. Preheat the oven to 180°C/160°C fan forced. Line a large baking tray with baking paper. Place the tomatoes on prepared tray and spray lightly with olive oil. Roast for 8-10 minutes or until the tomatoes have just collapsed.
2. Meanwhile, cook the pasta in lightly salted boiling water until al dente. Add the beans for the last 2 minutes of the cooking time. Drain and return the pasta and beans to the pan.
3. Heat the olive oil in a large non-stick frying pan over medium heat. Cook the garlic and lemon zest, stirring, for 30 seconds or until aromatic. Add the zucchini and cook, stirring, for 1-2 minutes or until bright green. Be careful not to overcook the zucchini.
4. Add the zucchini mixture, roasted tomatoes, parsley, mint, lemon juice and half the almonds to the pasta and toss gently. Season. Serve topped with the remaining almonds and a dollop of ricotta.
Notes/ Tips
I always choose a wholegrain or legume (such as red lentil, chickpea or edamame) style of pasta.