Chai spiced pumpkin bread
This pumpkin bread is delicious served toasted for breakfast, topped with ricotta and fresh berries, or by itself as a nutritious snack. You can also swap the spelt flour with oat flour. The loaf does freeze beautifully (sliced) for up to 1 month.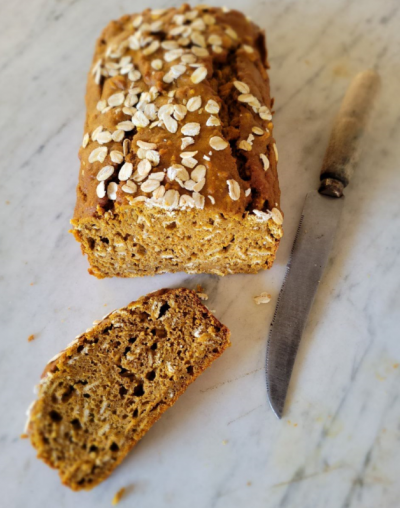 Ingredients
2 eggs

2 tbs good quality honey

60ml (¼ cup) macadamia oil

 1 cup mashed cooked pumpkin

150g (1 cup) wholemeal spelt flour

 1 ½ teaspoons ground cinnamon

 2 teaspoons ground ginger

½ teaspoon ground cardamom

¼ tsp ground nutmeg

2 tsp baking powder

45g (½ cup) oats, plus extra to sprinkle
Method
1. Preheat oven to 180ºC. Line a 20 x 10cm (base measurement) baking tin with baking paper. Whisk eggs, honey, oil and mashed pumpkin together in a large bowl.
2. Sift the flour, cinnamon, ginger, cardamom, nutmeg and baking powder together in a medium bowl. Add the flour mixture and oats to the wet ingredients and stir until just combined. Be careful not to overmix.
3. Spoon mixture into prepared tin. Sprinkle with extra oats. Bake for 45 minutes or until golden and cooked through. Set aside on a wire rack to cool for 5 minutes before removing from tin. Serve warm or at room temperature.
Tips/hints
You can replace spelt flour with oat or wholemeal flour.